No more than 10 minutes from the Notre Dame and Saint Mary's campuses, The Blue Lantern offers mouth watering meals and fine drinks. What could be better than being waited on with cool drinks, hot appetizers and a casual meal.
Just a quiet rendezvous in the warm and friendly Blue Lantern Lounge with friends or a night out with all your best pals... It doesn't get any better that.
Intimate table settings with special meaning are a hallmark of The Blue Lantern... whether it's a one of a kind display of New York with the twin towers still standing; or an impressive wall hanging featuring the Princess City... you will be in a special place when you dine at The Blue Lantern.
Planning a Party??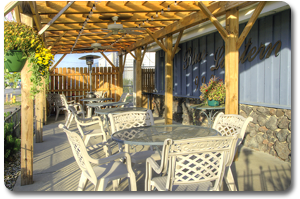 Check out the Blue Neon Banquet Room at The Blue Lantern.... Good Food, incredible service and your own private domain await you...
Take away a memory beyond your expectations when you let The Blue Lantern handle your event...Call us today for price and availability.